I'm having a hard time believing that it's May already. Where has the time gone?!
Recently, I downloaded an app called Timehop that digs through my past postings on Facebook, Instagram, and Foursqure and tells me what I did that day a year ago (or two, or even six!). A year ago I traveled for six weeks in a row. SIX! My "tour" began in Las Vegas, NV then on to Hollywood, FL, St. James Island, NC, Weehawken, NJ, New York City, NY, San Antonio, TX, Raleigh, NC, Richmond, VA and ended in Washington DC. Phew!
This spring has been light on travel. I made a last minute trip down to San Antonio for an industry show in March and a trip to see the in-laws for Easter, but that's about it. Not enough for my travel-soul to feel full…
However, that's about to change. I've been anxiously awaiting my visa to arrive because I'M GOING TO CHINA!!! That is if/when the Chinese Government approves my visa.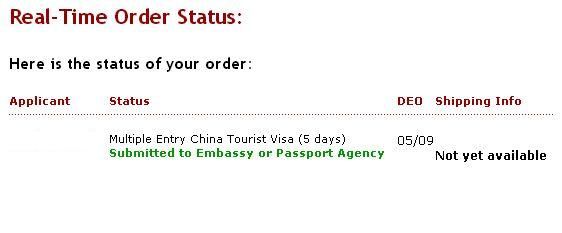 Nail biter!
To say I'm excited is an understatement. My last trip to China in 2008 left quite the impression on me and I never thought I would get the chance to go back.
We still need to book the hotel in Shanghai and figure out what we want to do and see while we're there. Have you been to Shanghai? If so, what would you recommend we do, see, and eat?