via AP News
It's been almost two weeks since the big quake occurred. Tens of thousands of people are feared dead and the confirmed number is already hard to comprehend.
My mom was in Tokyo the week of the earthquake. That Wednesday, a 7.4 magnitude quake made the buildings sway. Mom said it was a surreal feeling and even more so as she watched other building sway from the twenty third floor of a high rise. There were several aftershocks and everyone thought it was the big one, that it was over.
Unfortunately, it was not. On Friday, "the big one" shook Japan to it's core. But it wasn't the earthquake that destroyed whole cities and killed tens of thousands of people, it was the tsunami.
Japan has always held a special spot in my heart, especially after my first (and only) visit in 2008. The people and their culture amaze me, they are like no other.
I continue to be amazed by the people of Japan. There's order in the chaos...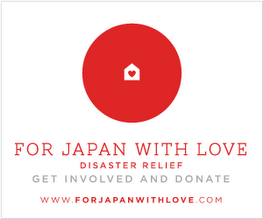 for japan with love
There are many ways to help. Both
Yahoo
and Google have links to legit agencies. You can text
REDCROSS
to
90999
to donate $10 (it's so easy that a two year old can do it).
Utterly Engaged
and
Ever Ours
are running a fundraiser,
For Japan with Love
, to benefit
Shelter Box
. Their goal was $5,500 (enough for 5 shelters) but they have exceeded their goal by over 1000%!!! At the time of this post they raised $56,779. Amazing!
This weekend mom and I went to
Super G Mart
on Independence Blvd. There was a Japanese family outside collecting money for the relief efforts. The only cash I had was one measly little dollar but knowing every penny counts, I put it in the donation box. Multiple thanks and bows later, I wanted to break down and cry. They treated it as if it was a million dollars.
I urge you to help. Whether it's time or money. Local drives or national fundraising efforts... It's going to be a long recovery...