I've got some exciting news… are you ready for it?
Our wedding was published in the Fall/Winter 2012 issue of Charlotte Wedding Magazine!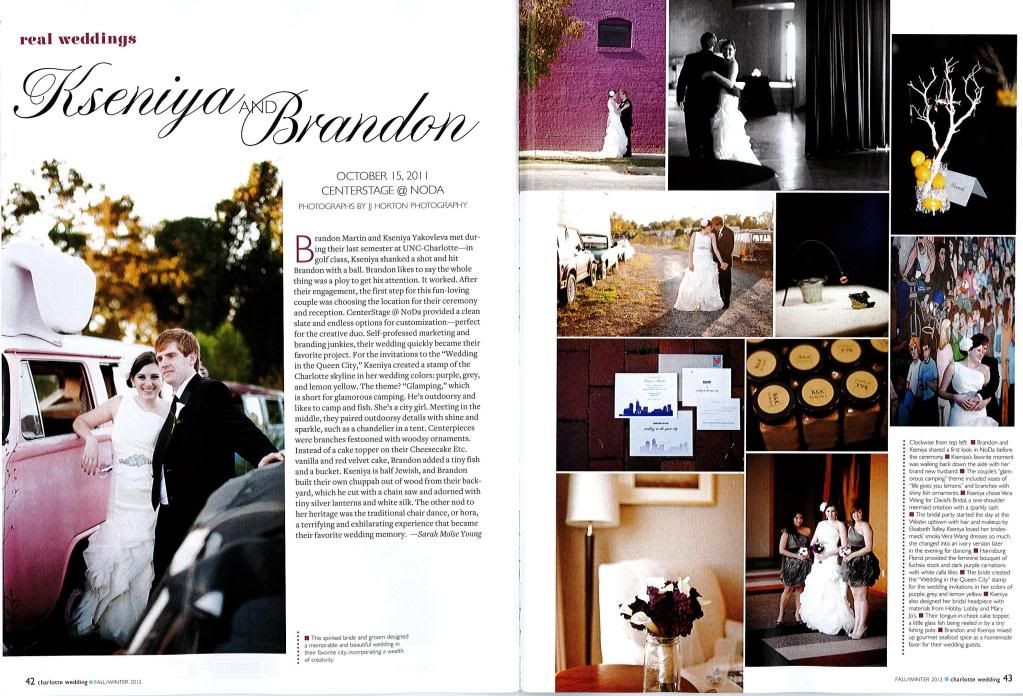 I have to admit, we're pretty giddy about it. We found out this spring that the mag wanted to publish the amazing work of our awesome photographer Jessica and in May Sarah interviewed me for the article. We only told our closest friends because part of us couldn't believe that it was real.
On June 6th (which happens to be my birthday) Aleigh, the editor of the mag, posted a picture of the magazine on instagram. Best birthday present ever! However, the magazine was not yet on stands so we had to be patient and wait just a little longer.
Then yesterday came. I was selected to be part of a focus group for a local restaurant and when I walked in and introduced myself the host said that she saw someone with the same name in the Charlotte Wedding magazine. That someone was me and that wedding was our wedding! Knowing that our issue has hit stands made it difficult to focus during the focus group so as soon as it was over I ran straight to Barnes & Noble in South Park to pick up a few copies.
My favorite quote of the night came from the lady checking me out, "Page 42 took all the copies of the Charlotte Wedding Magazine!" I didn't! I grabbed most copies, leaving a few for other fellow brides that are featured (Andi of My Beautiful Adventures is in the issue too).
You can see our article on the magazine's website, purchase it online or find a copy at a local retailer in Charlotte.
A lot went into planning our wedding last year and I hope to share it with you all. It was a fun project coming together into one unforgettable day.
Cheers!