Tupelo Honey Cafe is one of my favorite spots in town. Each visits begins with my love for their biscuits (with blueberry jam and honey) and continues through the rest of the menu.
Except this visit to THC was unlike any other. I was there to learn how to make the new seasonal cocktails dreamed up by Tyler Alford, Tupelo's corporate beverage manager, and to stump him in a Chopped style challenge.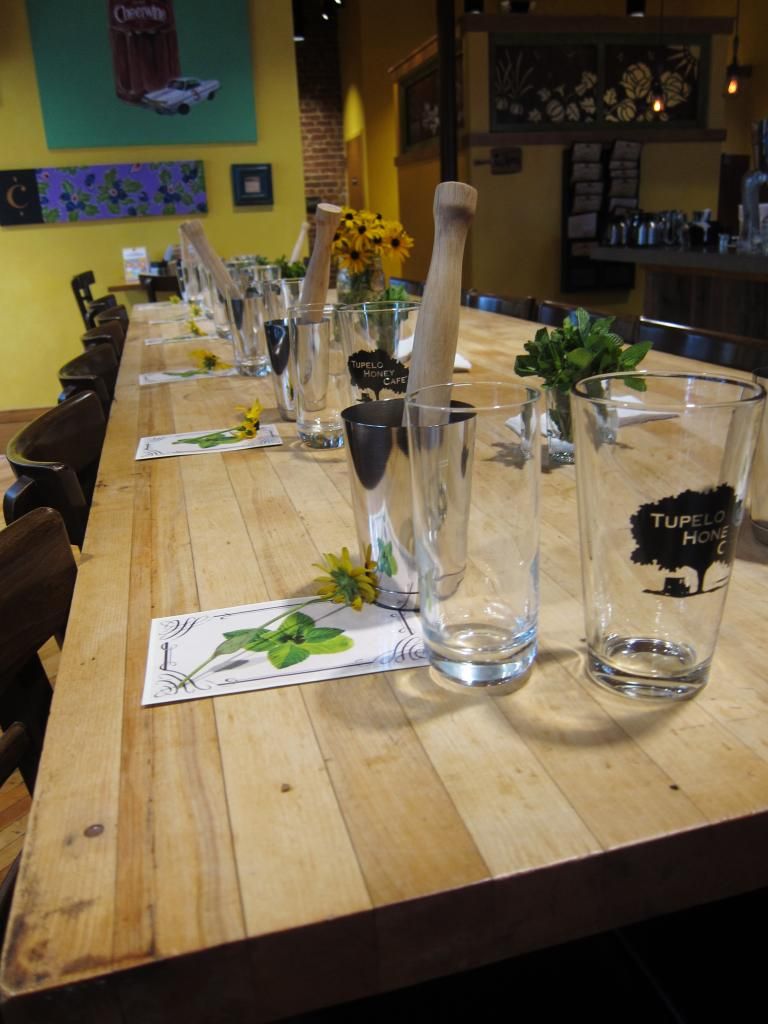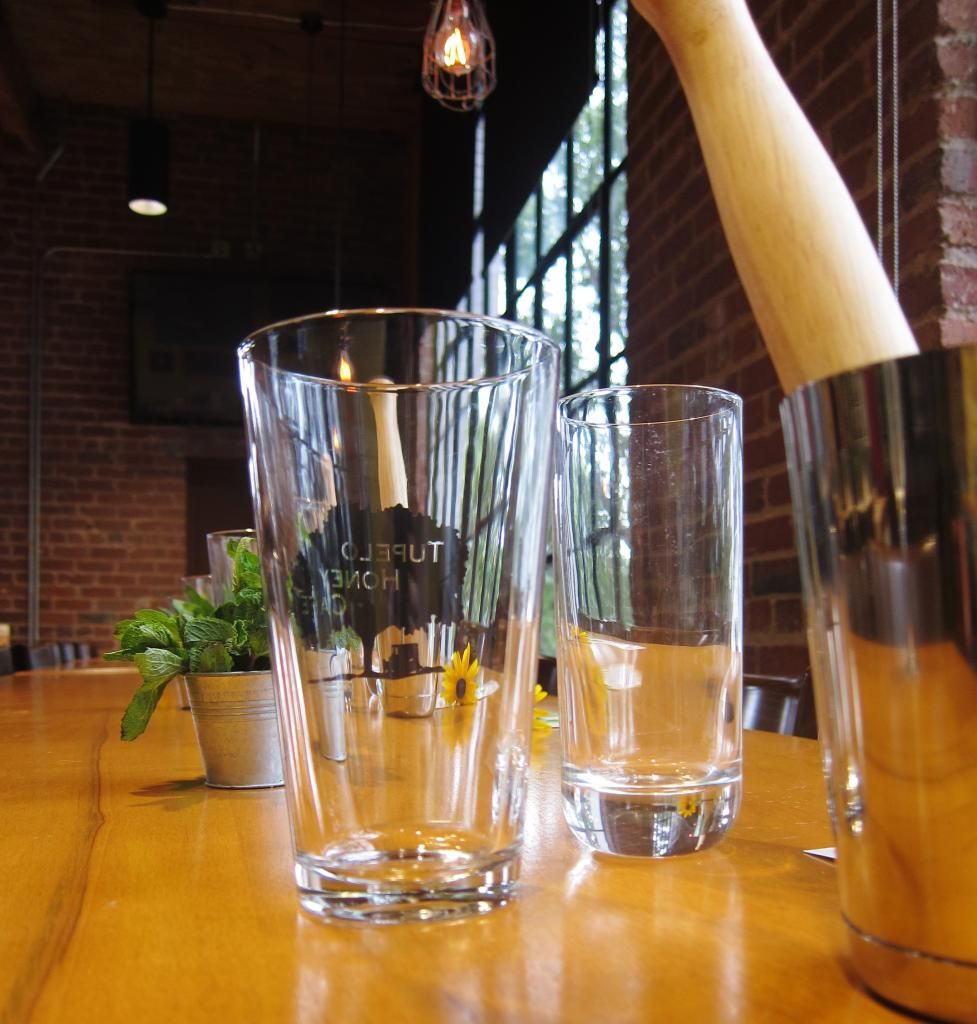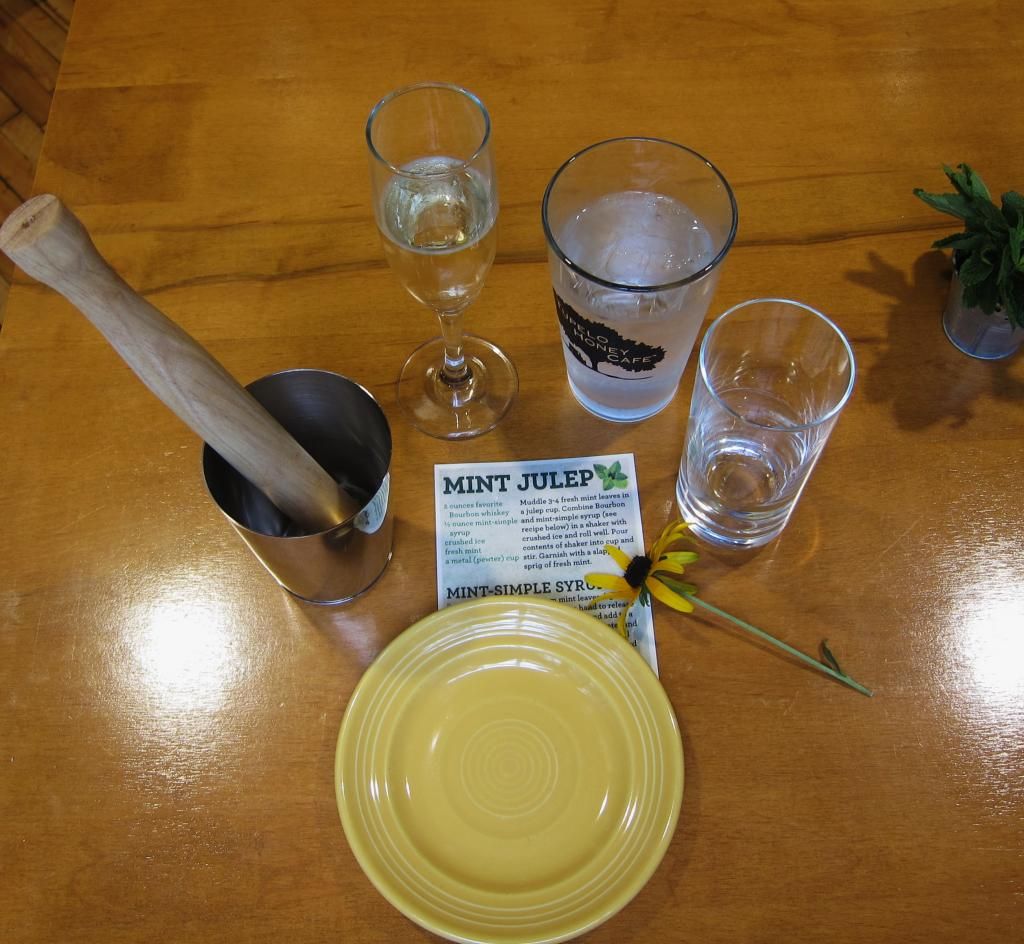 We were asked to bring one each of the following: a fruit, a vegetable, a spice, an herb, and a cooked piece of meat. I brought a whole bag of tricks but you'll have to read on to see what I challenged Tyler with...
Ramos Gin Fizz
A gin fizz is not something I regularly order. There are few restaurants that have it on their menu and I tend to forget about their existence. Not anymore! Tyler went through the extensive history of the gin fizz (
you can read about it on THC's blog
) and then proceeded to make a giant one for the crowd. One of the rules to making the Ramos Gin Fizz is that you have to shake it for at least three minutes. I was the lucky one who got to shake the GIANT shaker that held enough gin fizz for all of us. Talk about a work out!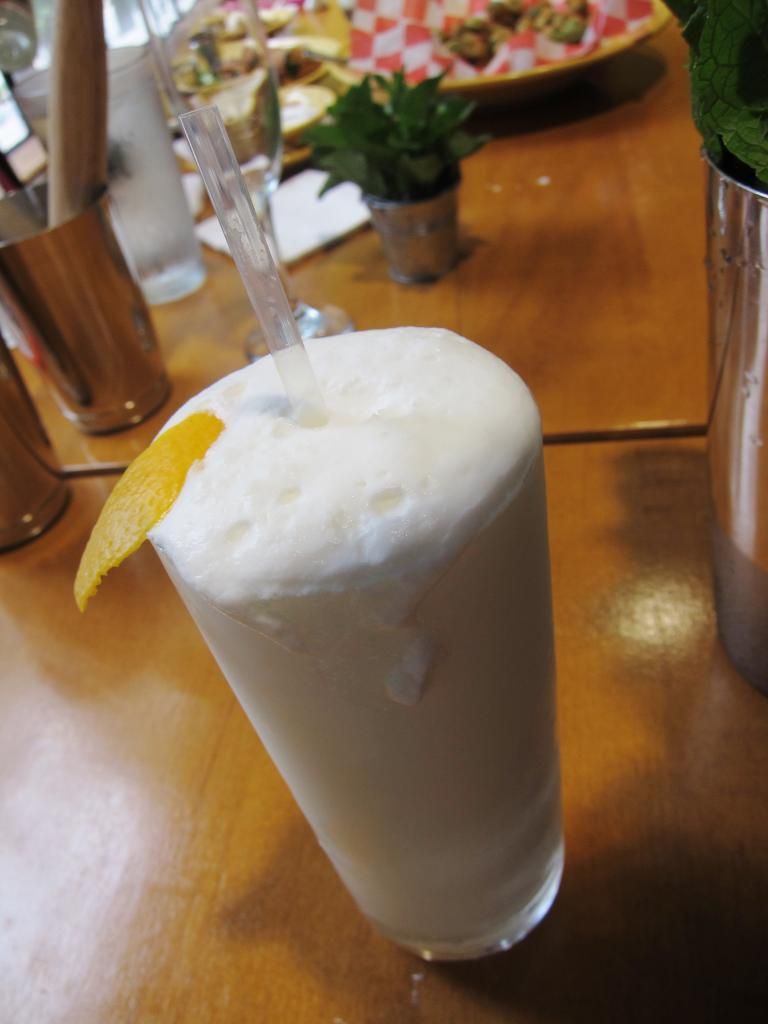 We tasted the Ramos Gin Fizz and then added a few drops of The Brothers Orange Flower Water. It transformed it to something even more delicious.
Brandy Apple Boom
Did you know that North Carolina is the 7th largest growers of apples? Now you do!
I do not recall everything that went into this cocktail but the most important part is that it was delicious.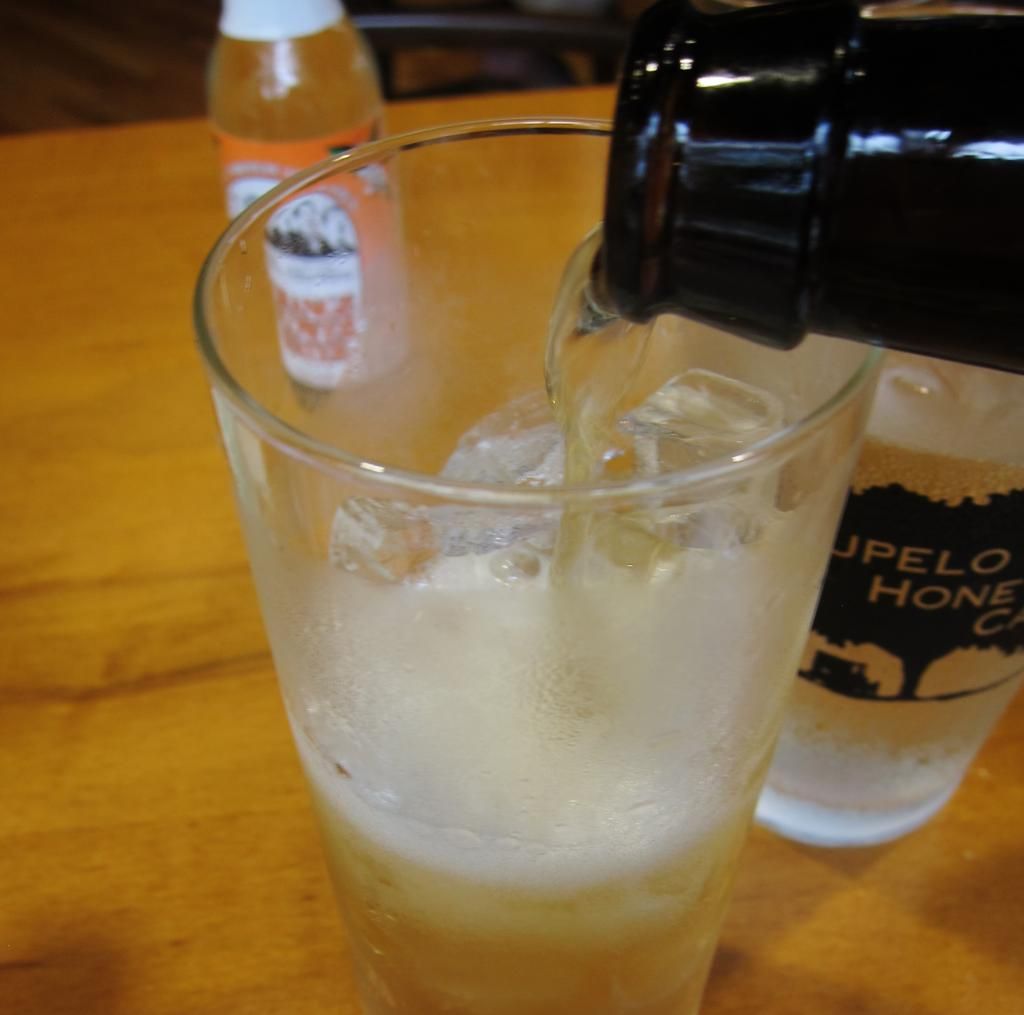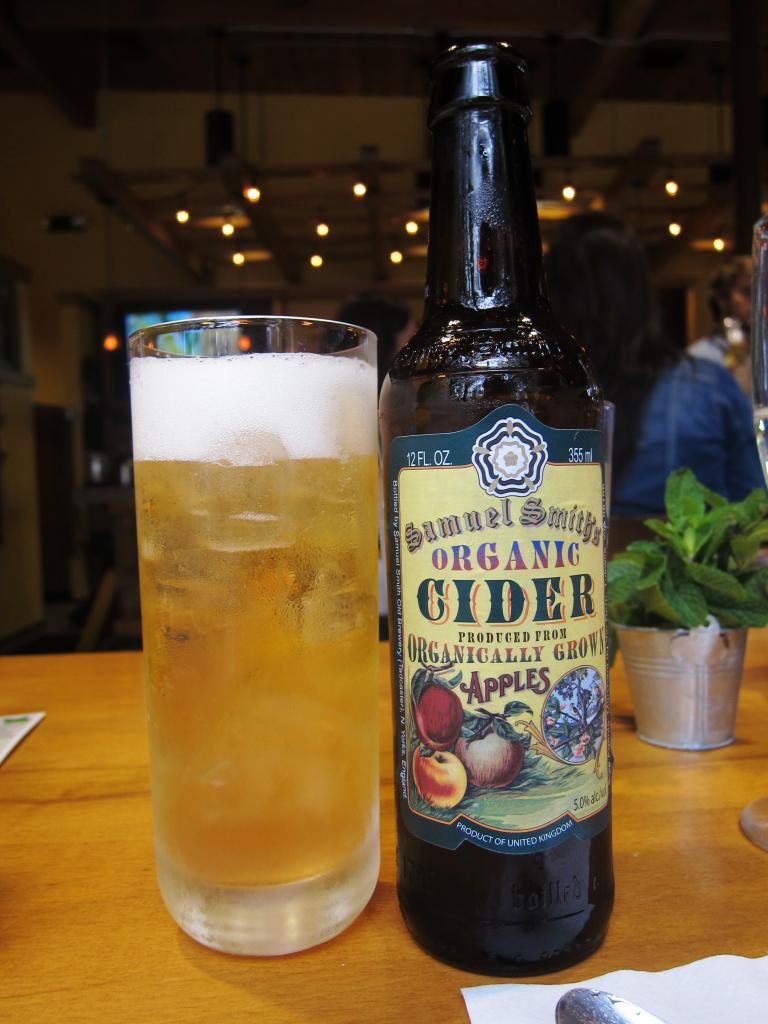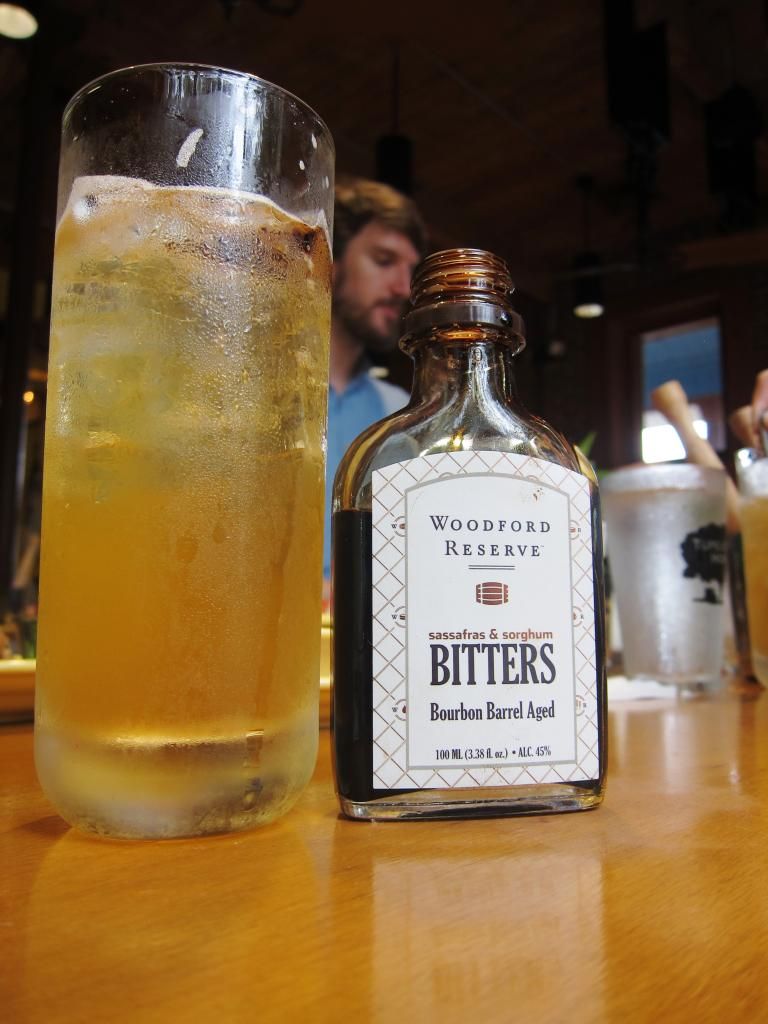 We provided a handful of names for the drink and I think it should be
The Hendersonville
, named after the
annual apple festival
.
Mint Julep
The final drink of the class was a classic mint julep, a favorite of mine. We muddled our mint, mixed it with mint-simple syrup, Jim Beam, and ice. Delicious! Not too sweet and perfect for the hot summer in the South.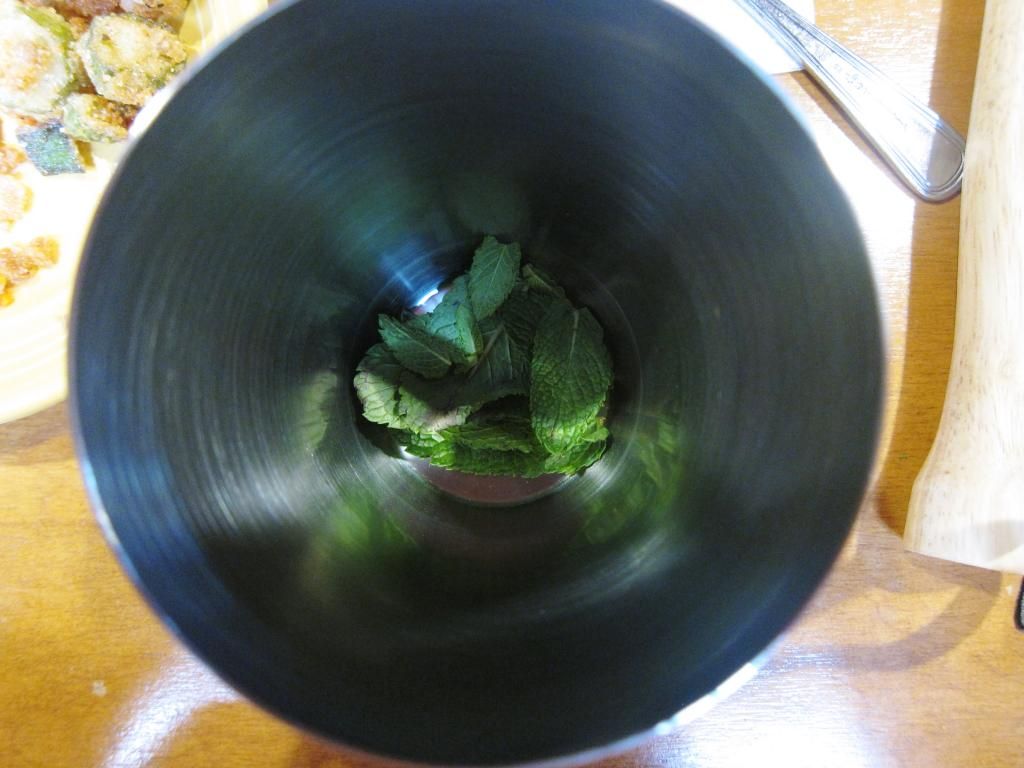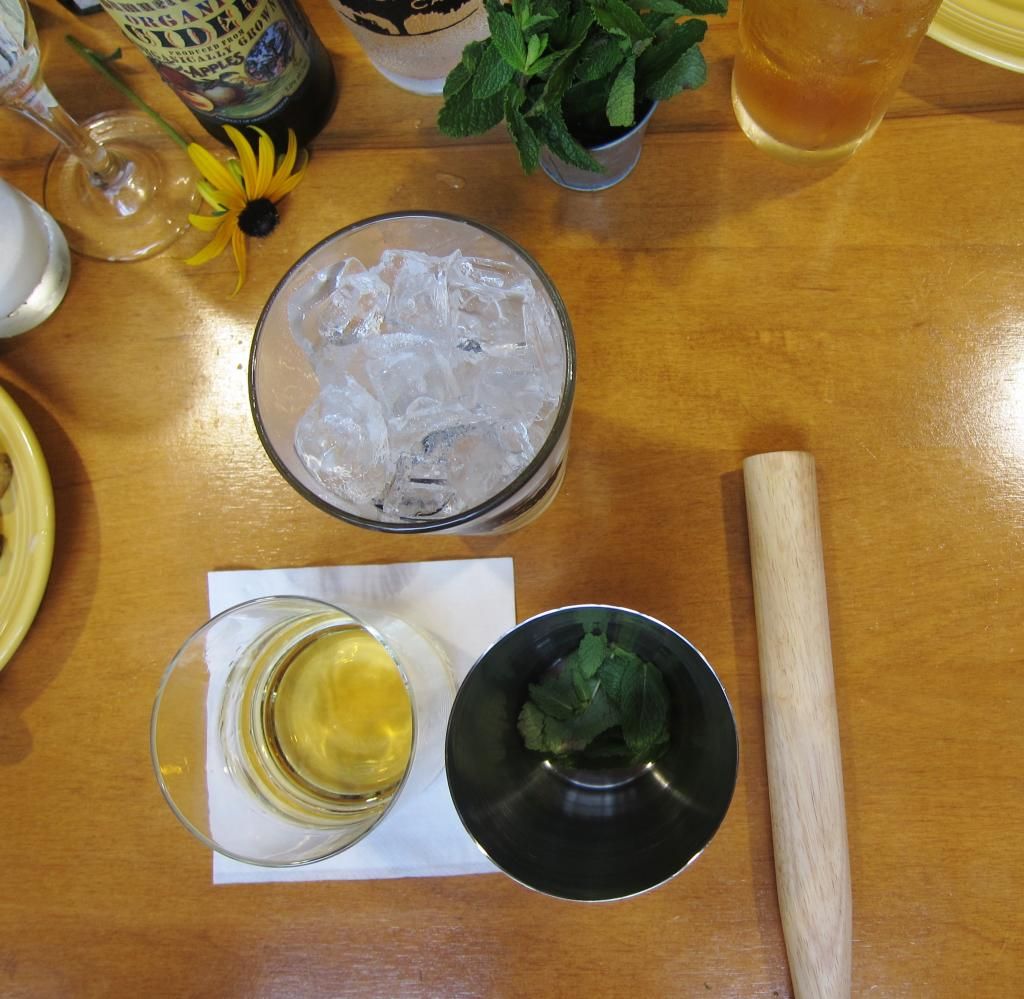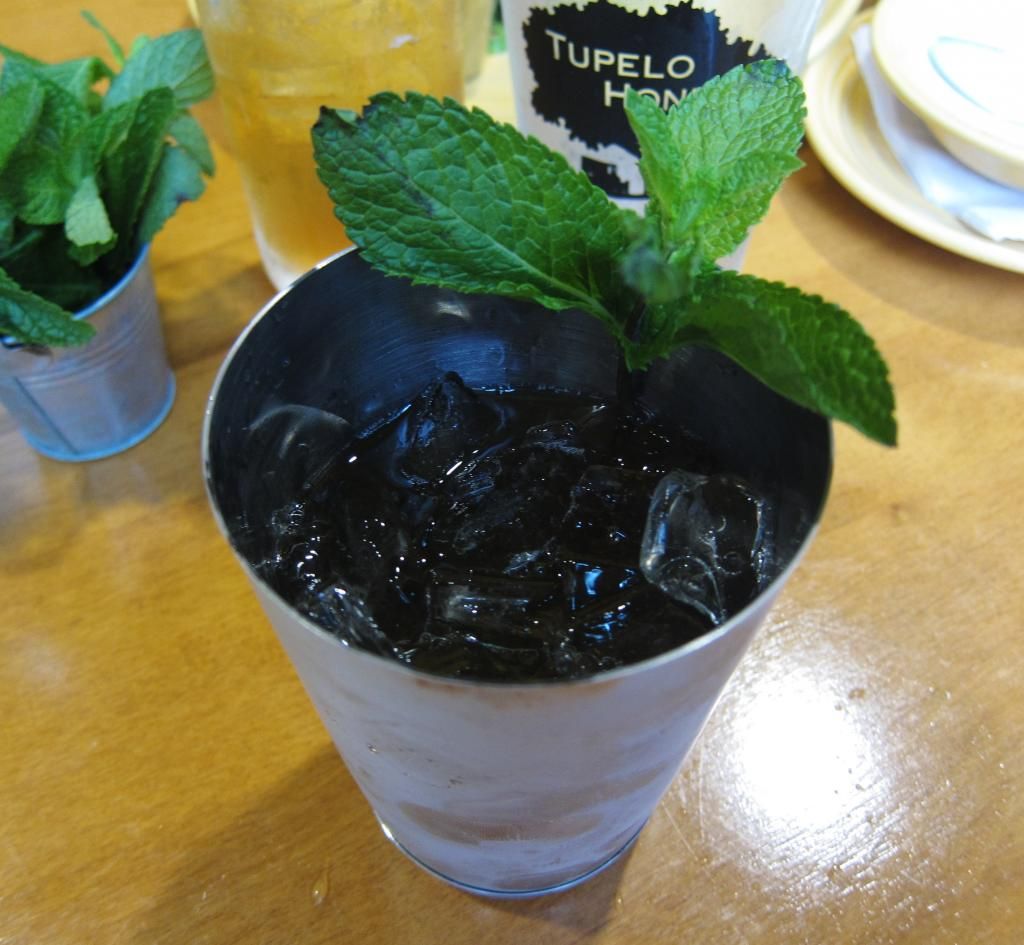 Stump Tyler Alford
Part two of the event was a Chopped-style challenge for Tyler. I'm the only one who brought a large bag full of stuff... but ended up pulling out: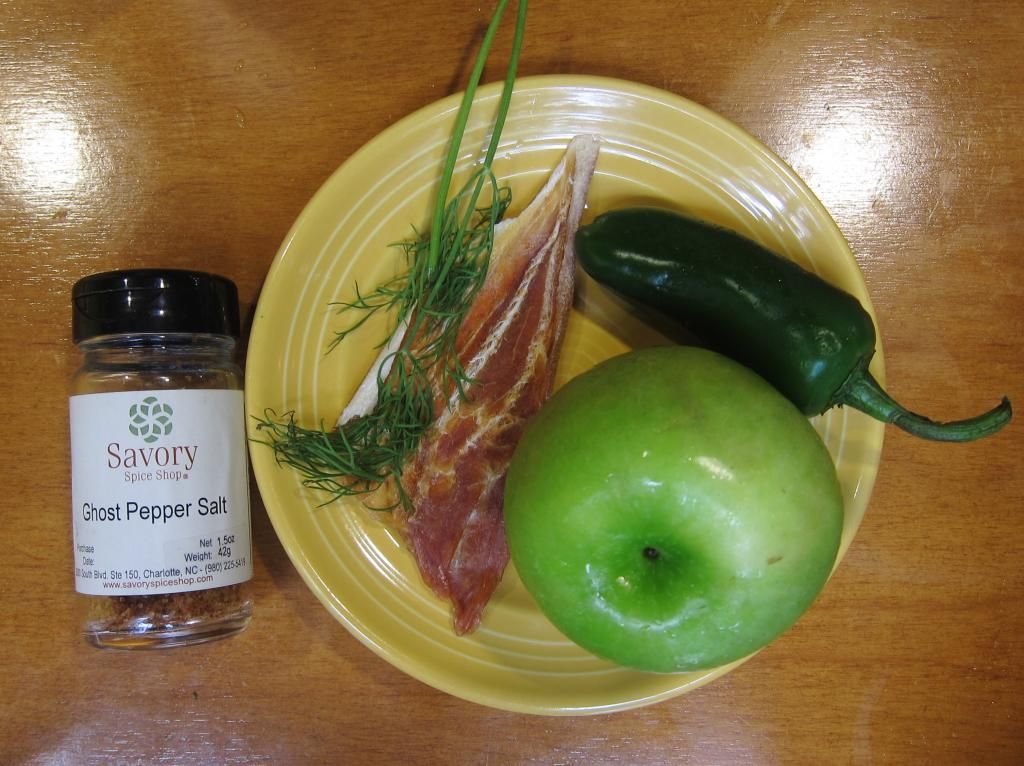 Fruit: apple
Vegetable: jalapeno
Herb: dill
Spice: ghost pepper salt from Savory Spice Shop
Cooked meat: dried fish
Tyler did not disappoint and made a margarita out of the items listed above.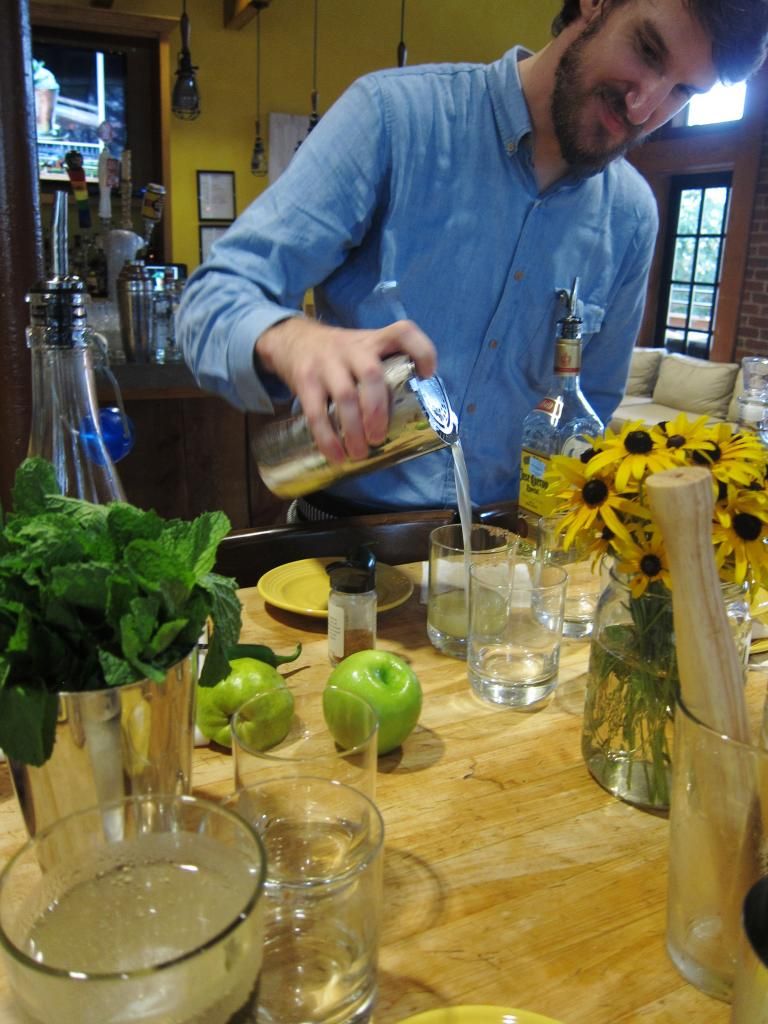 He added THC's house honey liquor, lemon juice, and tons of tequila. You couldn't even taste the fish and the margarita was pretty amazing!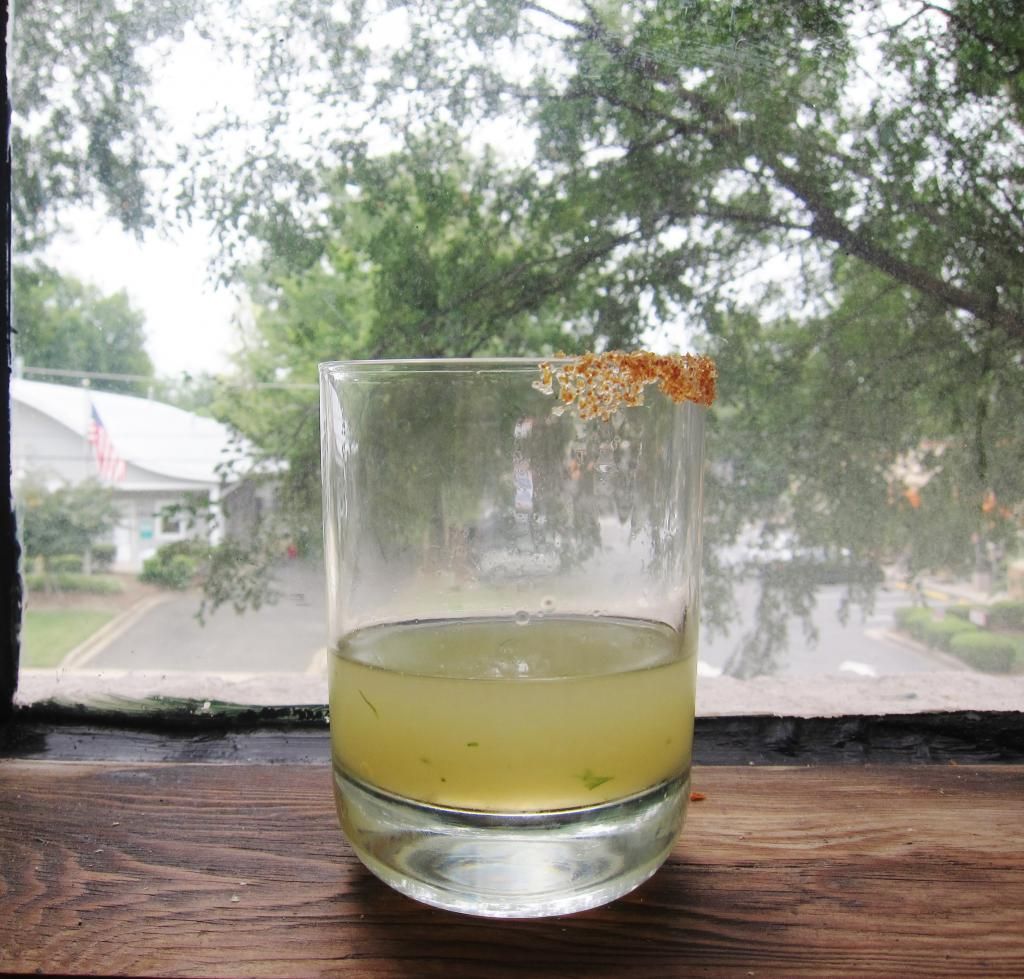 There were two other drinks that he made: a Jalapeno Pear Spritzer and a mixed berry something-or-other with cinnamon. Both were amazing.
The Best Bloody Mary in Charlotte
And then we got on the topic of Bloody Mary's and how Charlotte lacks in that department. Charlotte is far from having a
$50 Fried Chicken Bloody Mary
but it wouldn't hurt to have
some
competition going to have the best in town
.
And then THC brought out the big guns: a Golden Tomato Bloody Mary. It's as if Tupelo showed up, put this delicious and beautiful beverage on the stage, we ooh-ed and aah-ed, and then they dropped the mic and walked away.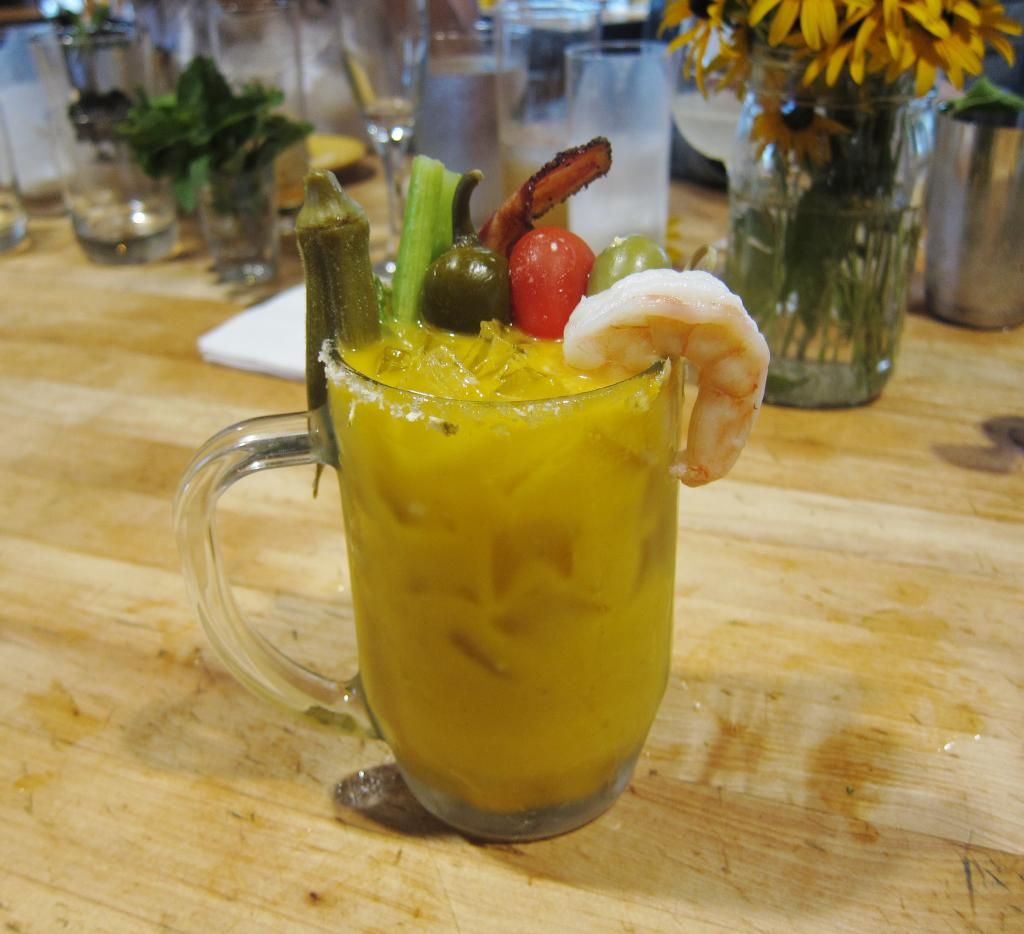 Your turn, Charlotte.
Huge thanks to the folks at Tupelo Honey Cafe for the invite, the food, the drinks, the fun, and the hospitality! I enjoyed not only learning how to make a proper cocktail but also getting a glimpse into your company culture.
Cheers!