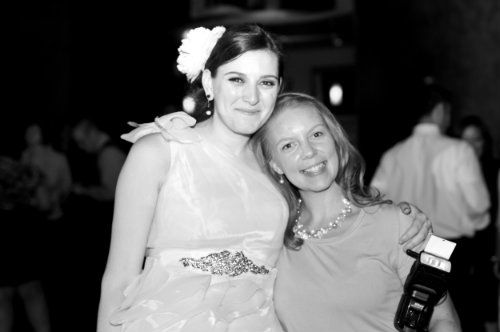 me & Jessica
(photo by JJ Horton Photography)
One of the most important aspects of a wedding is the photographer. It is also an area of the total wedding budget that gets the biggest chop on the wedding budget chopping block. To me it was in the top three, alongside the groom and the dress.
In January of 2011, my now husband and I attended the Bridal Showcase. I was lucky to have a man by my side that cared as much as I did about our big day so we braved the showcase together. It was overwhelming to say the least. I felt like I was back in Beijing, at the market, and everyone wanted to sell me something and it was an absolute sensory overload. On our shopping list that day: a photographer (even though I already had one in mind) and a location. We talked to dozens of vendors but with our small budget most of those vendors and services were out of the question. We did not want to pay $500 to preserve the bouquet (a bit of a disaster that I will write about at a later date) or $2,000 for a cake.
We met about a dozen photographers at the show. Pricewise, they ranged from $500 to $10,000+ and there were pros and cons to all of them. For example, we encountered a small handful of photographers that talked about their amazing photoshop skills and how they're "natural light photographers." Translation: I over process the pictures to look cheap and cheesy and don't know how to use flash properly so the sun is my best friend. And their portfolio screamed of this, loudly. Then there were the high end photographers and photography studios that crank out some of the best work I've ever seen but at $7,000+ we were not able to afford them. There were not many choices in the middle.

I met Jessica in 2010 at the first ever Charlotte Blogger's Meet Up and instantly liked her style and the fact that she had awesome Moo.com business cards. We stayed in touch on Twitter and I kept up with her photography blog. Our unsuccessful search for a photographer at the Bridal Showcase pushed me even further towards her services. Her package was just what we were looking for and more, it included 12 hours and two photographers. My lovely maid-of-honor slash sister-from-another-mister gifted us with the engagement session so we were all set. Working with her was a breeze and she calmed the many fears that came about after speaking to some of the other photographers.
So here are my tips for finding the right wedding photographer:
Wedding photography is not something you should be "cheap" about, even if you're a budget bride. Photography was 20% of our (some say laughable) total budget. Worth every penny.
Check out the photographer's website, blog, portfolio's, etc. Just like any business, the way they treat their own brand is the way they'll treat you and your pictures.
Every photographer has their own style (composition, lighting, etc.), make sure it matches you and your vision. This is in reference for the "photoshop pros" that over process the pictures and the "natural light shooters" mentioned above.
Meet with the photographer in person!! They may be perfect on paper and via e-mail but may end up being someone difficult to work with in person.
And as a follow up to the point above, spend the extra money on an engagement shoot. An engagement shoot is not just for pictures to put on your save-the-dates, it's an important exercise for you and your photographer to get to know each other, figure out your best side, working relationship, style, posing, etc.
Figure out the right package for you. It was important for us to capture the moments before the wedding so Jessica and Jeremy split up to shoot my husband and I at different locations. It was also important for us for the reception to be covered until the end. The 12 hour package was perfect because no moment went un-captured.
FEED YOUR PHOTOGRAPHER! And don't feed them crap. Be kind and let them eat the food you and your guests are enjoying. They're people too.

No one is going to remember the food or the music or much else and at the end of the day all you have left is your husband and the pictures from your big day!

Reach out to JJ Horton Photography if you're looking for someone to shoot your big day, or baby, or any other photography needs. :)