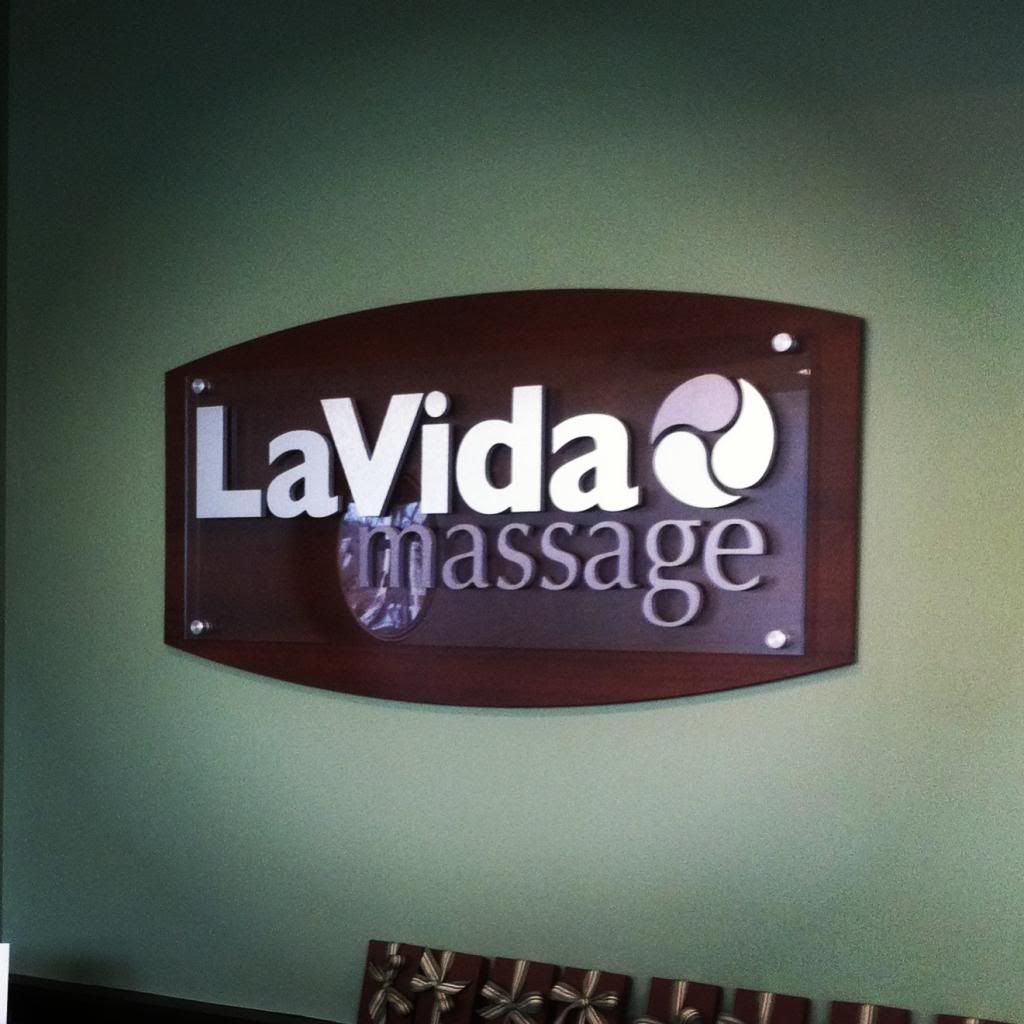 Last week was a bit stressful… nothing I can share at this moment in time because it is yet to be determined what will come out of it (Vague is my middle name). So it was perfect timing that I had a one hour massage and a one hour facial scheduled for last Saturday at
LaVida Massage at the Promenade
.
I carry all of my stress in my shoulders and constantly suffer from back pain. Wearing high heels, carrying a 30 pound purse and sitting at a desk all day doesn't help either. On more than one occasion, a clinical specialist recommended that I get massages frequently for the sake of my health and sanity. Unfortunately, getting frequent massages has not been on my radar because I assumed all establishments charged resort level fees and the monthly membership places were scams, like the gym… once you sign up you can't get out. You know what happens when you assume… right? But more on that later.
My appointment was at one o'clock but I recommended that you show up 10 minutes early to fill out paperwork. When I arrived I was greeted by sweet Christina at the front and was right away offered water or tea. I took her up on the offer to hydrate before my session. The paperwork is not as involved as it may sound. You fill in basic information and a brief health history, but nothing like you would at a doctor's office. Massage therapists are healers and they need to know certain things so they know how to help you but also how not to hurt you.
I was whisked away promptly at one o'clock to the therapy area by my therapist, Sydney. She asked me what type of pressure I prefer and I let her know where my problem areas were (shoulders & wrist injury). She left the room so that I could get undressed and under the sheets. My biggest personal issue when getting a massage is that I can't stop thinking about stressful things and remembering to breathe. The bed was heated and felt heavenly and I quickly felt my body relax and my mind started to drift with the music playing in the room. Perfection. She worked my muscles like a true therapist, concentrating on my problem areas and paying special attention to my injured wrist. It felt like time slowed down… a feeling I don't get to enjoy often.
I've had my share of massages in my life. They have ranged from horrible to absolutely amazing. Let me tell you, I was putty by the time Sydney was done with me. Walking and talking proved to be difficult. It was that good. But they weren't done with me yet! Next up was my one hour facial with Glen-with-one-N.
This was my first facial ever and I had no clue what to expect. Once again there was a consultation prior to the service, this time about my skin type and what I do to it (SPF 15 daily and nothing else… I sleep with my makeup on, shame on me!). The combination of Swedish and European Russian blood has served me well so I have been pretty lucky when it comes to my skin. I do break out on occasion but thankfully most of my breakouts happened during my teen years. Once again I stripped to my skivvies, got on the heated bed, closed my eyes, and let Glen-with-one-N take care of me. Glen was very good about letting me know what he was doing to me but without talking too much that I couldn't relax (I have a horror story from the time I got an overpriced massage in Vegas...!).
His hands were magic. MAGIC! The treatment was fantastic. He used a steamer on my face that smelled like the Amazon. I thought I was relaxed after my massage but this put me over the edge of relaxation. But the amazingness did not end there. While my mask was setting, Glen gave me a foot massage that topped the one I got in Beijing in 2008. Yes, I remember things like that.
I was drunk on relaxation and didn't think I would be able to drive by the time my sessions were over. It also made me realize that I need to get a massage more often to wipe away the stress.
Stress kills.
Remember that massage membership assumption I mentioned earlier? It was wiped away, just like my stress. LaVida offers a no pressure, month-to-month membership that is transferable. This is music to my ears because I'm always skeptical of anything membership related. This means that if I skip a month, I can have two massages or facials in one month or I can let my wonderful husband go in my place. As a member, you can also purchase additional services at a discount each month.
Some say a massage is a luxury that only a few can enjoy. I say that it is a necessity that is affordable and even covered by some insurance plans! Yeah, that's right, you can get all or part of your massage reimbursed but you'll have to check with your insurance company on the necessary steps to take. Don't we all want to be healthy and happy and stress free in the new year?

Give LaVida Massage at the Promenade a try and let them melt away your stress and tell them in the Queen City sent you!


Disclosure: LaVida Massage at the Promenade provided me with their services at no charge in return for an honest review.