Most of you that know me know that I don't yoga well. I'm the awkward one in class that eventually gives up and finds herself in child pose for the last thirty minutes of the class. Or outside of the classroom chugging water like my life depended on it. It's safe to say I may have been over my head during those classes and should have taken a few beginner lessons, but I regress...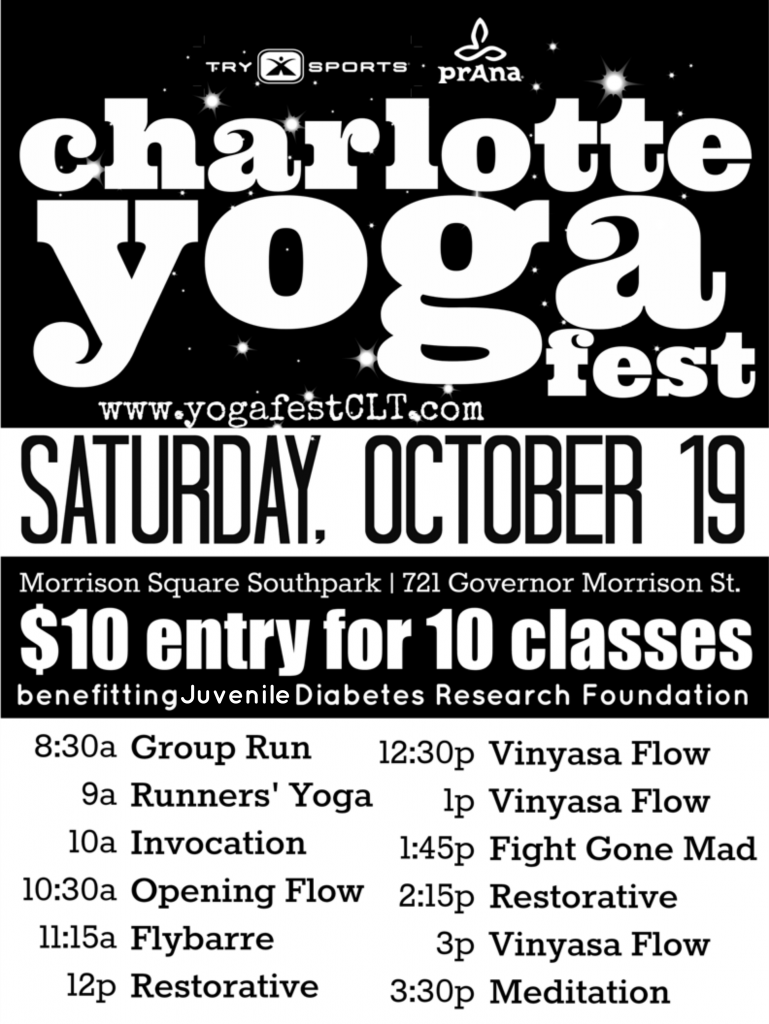 For those of you who enjoy or even LOVE yoga, Yogafest is not an event to miss! Even I'm willing to get past my awkwardness to support a good cause because I know no one judge me. That's the beauty of yoga: come as you are.
So what is Yogafest? It is an all day event that supports the Juvenile Diabetes Research Foundation. For $10 you get 10 classes! That's a dollar per class and it's for a good cause. The classes vary in difficulty levels so there is really something for everyone. The class I'm most excited about is Meditation at 3:30pm because it'll be an opportunity for me to showcase my amazing form in child pose in a pair of $100 lululemon pants. That, my friends, is dedication.
I have partnered up with the folks over at Yogafest for this amazing giveaway:
Two tickets to the event and two $50 gift cards to Trysports.
You can enter up to five times by doing the following:
1) Like at least one of the following pages on Facebook:
in the Queen City
YogaFestCLT
TrySports
prAna
JDRF
2) Leave a comment listing the page(s) that you liked in #1 and what your favorite yoga pose is.
The contest ends at 12:00pm EST on Wednesday, October 16th, 2013 and one winner will be randomly selected.
Good luck!
What: YogafestCLT
With amazing yoga instructors, massage booths, traditional henna paintings, local food vendors, and more!
Who: Sponsored by Trysports and prAna.
Why: 10 classes for $10 for a good cause (benefiting JDRF)
Where: Morrison Square at Southpark
When: Saturday, October 19, 2013
How: Buy your tickets here.